We accept the following type of payments
Vectothor i-trap 50E Fly Control Light Lamp Pest Control
Vectothor i-trap 50E Fly Control Light Lamp Pest Control
$249.95
$219.95
You save $30.00 (12%)!
i-Trap 50E
THE DISCREET, NON-TOXIC  & FUNCTIONAL WALL MOUNTED INSECT CONTROL UNIT
Stylish, contemporary and ultra discreet the I – T R A P series of painted metal lamps use a powerful UV-A lamp to lure insects into its trap. Once insects enter the unit, they are effectively controlled with a glue board trap – stopping them in their tracks.
Easy to service, stylish and effective the perfect accessory to any establishment, home, business or office.
They come in various different sizes and shapes, they may appear to be a light to the unsuspecting eye but you know they are much more –
— get rid of the zapping noisy and in your face units and get with the discreet, quiet and stylish new and improved –
The unit can be wall mounted and has a transparent front grid with the housing made of durable ABS plastic and white powder coated steel.
Recommended for use in:
homes
offices
schools
shops
restaurants
food handling areas
motels and hotels foyers
retail outlest
supermarkets
factories
10 Reasons to buy I-Trap 50E
the unit can be mounted onto the wall
the transparent front grid offers discretion and improved efficacy
glue board discreetly placed behind the lamp
in the heart of the unit is the most powerful UV-A lamp available. Exclusive to vectothor the philip's Longlife lamp is specifically designed to match the flying insects vision spectrum with the lamp's output for optimum attracting power
effective coverage of areas up to 50 square meters
easy to service with direct access to lamps and glueboard
meets ISO 9001 / RoHS & the CE Standard. Unit is HACCP Complaint
30% improved performance over conventional units due to its unique attraction grid which reflects the light onto the landing spot thereby stimulating the landing behaviour of flying insects
I – Trap 50 is executed with  high frequency ballast which offers lower operational costs. The electronic ballast also offers a high frequency light pulse which means the insect cannot distinguish the lamp from natural UV-A light so providing greater attraction
1 year FULL GUARANTEE on the mechanical aspects
The unit can be wall mounted; the separate mounting strip offers easy maintenance & service. The i-trap 50E has a transparent front grid, with the housing made of durable ABS plastic and white powder coated steel.
VECTOTHOR Falcon uses cutting edge science to fly ahead of the competition
| | |
| --- | --- |
| | PHILIPS UV-A Lamps®PHILIPS Long-life UV-A Lamp® output Optimized to match the house fly's vision spectrum guarantees you kill more flies. |
| | VECTOTHOR Natural UV-A Light Technology™VECTOTHOR Natural UV-A Light Technology™ uses an exclusive High Frequency Light Pulse which ensures flies see the light just like natural sunlight. Consequently far greater attraction is shown to the VECTOTHOR lamps. |
| | VECTOTHOR Natural Contrast Grid™VECTOTHOR Natural Contrast Grid™ mimics the natural way light is broken up when it shines through trees to more naturally attract flies. |
| | Temperature Optimized GlueboardTemperature Optimized Glueboard ensures total entrapment of the flies, even in tropical temperatures.A silicone paper coating means the board can be quickly and simply replaced. |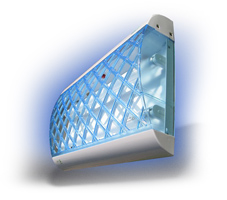 Area coverage:
50 – 80m² effective coverage
Light source:
2 x 15 Watt shatterproof Philips Longlife UV-A lamps
Catch specifications:
Temperature optimized glueboard with silicone paper cover
Material:
ABS plastic and white powder coated steel
International Standard:
acc. IEC 60.335-259 International Standard
for Insect Exterminators through TUV-Rheinland
Lamp life time:
17,000 hours
Degree of protection:
IP 21 drip-proof
Mounting position:
Ceiling and flag mounted
Dimensions (LxWxD):
470 x 325 x 100mm (18.5 x 12.8 x 3.9 inches)
How to get the best out of your I – TRAP:
maximize interception of insects by placing them in likely paths where insects will roam
decide if more than one I -TRAP is required – the more placed, the quicker the result.
place in areas where its known to have flying pests