We accept the following type of payments
Rats
Rats
Rodents' biology and habits can make them challenging to control, and they present a serious menace to your home. If you're in need of rodent control services, here's what you should know about these pests:
Rats
Instincts: Rats are instinctively wary of things new to their environment, including rat control measures such as traps and bait, and colonize in attics, burrows, under concrete and porches, in wall voids and other hard-to-reach places.
Disease: Rats can harbor and transmit a number of serious diseases. They can also introduce disease-carrying parasites such as fleas and ticks into your home.
The most common pest rats in Australia are the roof/ black rat and the Norway/ brown rat. The roof rat is dark in colour and may have white underneath, with a small body and a tail longer than the body. The Norway rat has dark brown to black fur with a large body and a tail that is shorter than the body length.
Brown rats are omnivorous, meaning they will eat just about anything. Roof rats are more selective choosing to feast on fallen fruit, nuts, bird seed and grains.
Rats will travel up to 700m to find water and food. They are generally most active after twilight and again before sunrise during late summer and autumn. Rat sightings during the day, are usually an indication of large rat populations.
Rats generate unpleasant odours and like mice can transmit diseases and contaminate food with their hair, droppings and urine resulting in food poisoning and wastage. Rats also carry fleas and ticks which can be transferred to pets or humans. Significant damage can be caused by their desire to gnaw and they can damage a wide variety of materials such as wood, plastic, insulation and they have been known to cause fires by damaging electrical wiring.
The Black Rat
The Black Rat is easily recognised by its slender body and long tail (average length 230 mm), which is much longer than the length of the head and body (total average length 190 mm), and by its large, thin ears. The sleek coat on the rat's back may vary from black to light brown. The underbelly is usually pale grey-white. Like other species of rodents, the Black Rat has orange-yellow incisor teeth with persistent pulps.
Appearance
Black or brown, can be over 40 cm long, with a long tail, large ears and eyes, and a pointed nose. Body is smaller and sleeker than the Norway rat's. Fur is smooth.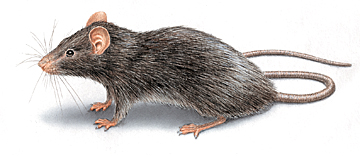 Behavior, Diet & Habits
Nests inside and under buildings, or in piles of rubbish or wood. Excellent climber that can often be found in the upper parts of structures.
Omnivorous, but shows a preference for grains, fruits, nuts and vegetables.
Reproduction
Becomes sexually mature between two and five months, producing four to six litters per year that consist of six to eight young each. Lives up to one year.
Roof rats are prodigious breeders. Females can breed year-round. Within a year, one female may be responsible for up to 40 new rodents.
Signs of Roof Rat Infestation
Visual sightings of live or dead rodents indicate rodent activity. If roof rats are seen exposed, it often indicates their hiding spaces are all filled by other rats or that they have been disturbed, such as by construction. Droppings are another good indicator of roof rat activity. Roof rat droppings are 12 to 13 mm with pointed ends, whereas Norway rat droppings are 18 to 20 mm and capsule shaped. Other indicators can include grease marks along surfaces as well as nests.  Grease marks are produced as the rodent travels along an edge, and the oils in their fur are deposited. Indoor nests usually are constructed in insulation such as in attics.
More Information
Black rats have long been named as carriers of the fleas responsible for the Black Death in the Middle Ages. While this plague is no longer as serious a threat to humans, roof rats are still potential carriers of disease.
The first step in controlling a roof rat infestation is to properly identify the rodents. Roof rats have hairless, scaly tails that are longer than their heads and bodies. These rats are nocturnal and are excellent climbers.
To prevent a colony from nesting in your home, make sure that all the windows and vents are screened. Roof rats can also enter openings in walls, eaves and roof from the branches of trees. Trim all tree branches to further prevent entry.
ROOF RAT BEHAVIOUR
Roof rats are highly adaptable. They prefer to live in high places, but may live in a variety of environments. They are nocturnal by nature and are accomplished climbers. As their name suggests, roof rats may be found in elevated areas such as trees, rafters, attics and roofs. Roof rats can also nest on the ground if necessary.
In dense populations, roof rats will establish a social hierarchy, wherein dominant males mate more than subordinate males.
They prefer to consume fruits and nuts, although roof rats are omnivorous and will feed on almost anything available to them. These rodents have been known to consume tree bark, meat and grain. Roof rats are also food hoarders, stashing supplies of food such as seeds and nuts.
ROOF RAT DISEASE:
Roof rats can be carriers of diseases. They can transmit these diseases through physical contact, bites, by contamination or by fleas that are feeding on the rodent.
Historically, infected fleas have transmitted serious plagues from rats to humans. Bubonic plague was a scourge in Europe several times throughout history. There are still outbreaks of plague in the United States and around the world today. Trichinosis may be contracted through eating undercooked meat of animals that have fed on rats. Rats contaminating food or food preparation surfaces can transmit food poisoning. Rats can also transmit rat bite fever through bacteria in their mouth.
Hantavirus pulmonary syndrome is transferred via inhalation of rodent urine, droppings or saliva. Although roof rats have not yet been connected to HPS, everyone is advised to use caution when dealing with an infestation. It is best to contact pest management professionals for an inspection and evaluation.
Treatment:
Nontoxic baits or attractants are intended to attract rats to a trap. Rats are shy and avoid new things. They will avoid traps unless there is something very attractive on the trap. Roof rats may be attracted to simple food scraps. Pieces of fruit and bacon are particularly effective in drawing roof rats toward traps. In addition, try putting the attractant out for a few days before setting the trap. This will get the rat used to eating at that location. Peanut butter should never be used as an attractant, since some people can have allergic reactions to the presence of peanuts.
Toxic baits or rodenticides are intended to kill the rats when they eat the bait. Rodenticides are potentially harmful to nontargets such as people or pets if not applied correctly.
The Brown Rat
The Brown Rat is a thickset, aggressive rat with a coarse brown coat, short ears and thick tail. Both the ears and the tail are often damaged and scabby. The tail in this species is shorter than the combined head and body length. Brown Rats take whatever human food is available, which can result in economic loss. Domestic strains of this rat are useful as laboratory animals and colour mutants are popular as pets.
Norway rats are large rodents that may weigh in excess of 500 grams. They can reach lengths of 40 cm,and their tails alone may measure 21 cm. The body of the Norway rat is covered in shaggy fur that is brown or gray in color. The ears and tail are covered in scales, and the tail is shorter than the head and body. Droppings are capsule-shaped.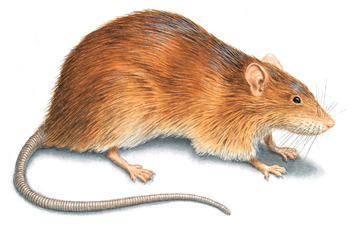 Behavior, Diet & Habits
Norway rats typically nest in underground burrows from which they enter buildings in search of food. They tend to remain in hiding during the day.
Norway rats are omnivorous and feed on a variety of food sources. If given the choice, they will consume meats, fruits, grains and nuts. Dead animals also serve as a food source for these rats, and they are capable of catching small fish and rodents. They require water to drink, and they make their colony as close to a water source as possible. Norway rats live in communities with dominant and subordinate members, though they are not truly social like ants.
Reproduction
Brown Rats reach sexual maturity in two to five months and can breed any month of the year. Litters may number from four to 22. Females can have three to 12 litters per year. Adults generally live up to one year in the wild.
Signs of a Brown Rat Infestation
Brown rats are not usually seen exposed unless driven out of their hiding spaces because of limited space or disturbances. Sightings during the day often indicate a potentially large infestations. Outdoor burrows surrounding the building may be an indication of a Brown rat nesting. Other signs of Brown rats are their gnaw marks on food and objects such as utility lines. Rub marks or grease stains caused by rats running along an edge also can indicate activity. In general, the darker the stain, the greater the activity. Perhaps one of the most well-known signs is their droppings. Brown rat droppings are blunt and 18 to20 cm long. They can be scattered along frequently traveled rodent pathways.
More Information
Brown Rat Scurrying
Today, Brown rats thrive in a variety of human habitats. While it is believed thatBrown rats originally lived only within temperate forest regions, they are extremely adaptive and now thrive comfortably in densely populated cities. Outside, they can be found burrowing in the soil beneath buildings, in embankments and near tree roots. Inside, they live in basements, crawlspaces, attics and sewers. They can be carriers of various diseases.
How to spot a Brown Rat:


Brown Rat
Brown rats are easily identifiable by their coarse brown fur and large size. Adults can weigh about 200 to 500 grams. From nose to tail, they measure over 40 cm. The brown fur of the Norway rat lightens toward the underside. Despite its large size, its eyes and ears are small. The tail and ears are not covered in fur but possess a scaly texture.
Brown rats may be difficult to observe within a home, as they are nocturnal in nature. However, their droppings are often visible in homes they inhabit. These droppings measure about 18 to 20 mm in length and are capsule-shaped, with blunt ends.
Nests are also present in or near infested homes. Brown rats tend to line their nests with shredded paper, cloth and other fibrous material. Outside burrows are comprised of complex, underground networks with multiple exit holes. This burrowing behavior allows Brown rats access to outside food sources such as garbage cans or bird feeders.
Gnaw marks or holes in sacks of pet food may indicate a Brown rat infestation. Gnaw marks on doors or wooden walls and other hard, indoor surfaces are also signs of these rodents. Brown rats may leave footprints in dust or greasy markings on floors and walls.
Rodent Facts
Rodents are warm-blooded mammals that, like humans, can be found throughout the world. They have oversized front teeth for gnawing and check teeth, which are adapted for chewing. Rodents chew on a variety of  items available to them and cause great damage in and around homes.
Rodents tend to be rapid breeders. Some species breed year-round, and populations are maintained through constant reproduction. Because of the rodents' body plan, they are capable of squeezing through spaces that appear to be much too small for them. All such holes should be sealed to prevent entry and reentry of rodents. A pest control professional should be contacted for assistance.
Rats and mice are both extremely destructive within agricultural communities. A number of species feed on seeds and grains. The feces and urine of some rodents may contaminate surfaces with which they come into contact.