We accept the following type of payments
Flies
Flies
More than 100 pathogens are associated with the house fly, including Salmonella, Staphylococcus, E. coli andShigella. These pathogens can cause disease in humans and animals, including typhoid fever, cholera, bacillary dysentery and hepatitis. Sanitation is critical to controlling these pests, but accurate identification is essential for successful fly control. Here are some other things you should know about flies and fly control: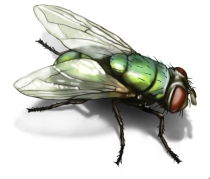 Depending on the species, the life expectancy of a fly is eight days to two months or, in some cases, up to a year.
Flies belong to the order Diptera, meaning two wings. There are more than 16,000 species of flies in North America.
Flies plague every part of the world except the polar ice caps.
One pair of flies can produce more than 1 million offspring through their offsprings' offspring in a matter of weeks.
Millions of microorganisms may flourish in a single fly's gut, while a half-billion more swarm over its body and legs.
Flies spread diseases readily because they move quickly from rotting, disease-laden garbage to exposed human foods and utensils.
Because they only have two wings, flies land often and therefore can deposit thousands of bacteria each time they land.
U.S. Department of Agriculture sources reveal that flies contaminate or destroy $10 billion worth of agricultural products annually.
Every time a fly lands, it sloughs off thousands of microbes. If a fly lands on food or utensils, customers may ingest germs that can trigger serious illness such as diarrhea, food poisoning, meningitis and bloodstream infections.
House Fly
The house fly usually grey is arguably the most common domestic pest. They are 5 mm – 8 mm in size.
House flies do not have teeth, instead they have mouth parts designed to lap or suck. The house fly can only eat liquids, but can turn some solids into a liquid by spitting or vomiting on it. Flies consume moist decaying matter and are particularly attracted to waste products because the strong odour makes this an easy to find food source.
Not only is it a nuisance, but it also carries disease-causing organisms, which it picks up from garbage and sewage.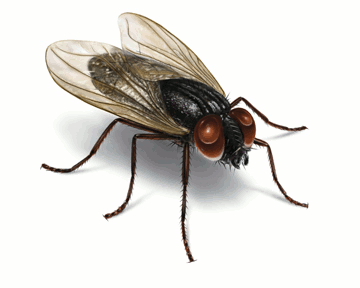 Behavior, Diet & Habits
They prefer corners and edges or thin objects to rest on. Indoors, they rest on floors, walls and ceilings during the day. Outdoors, they will rest on plants, the ground, fence wires, garbage cans, etc. Night resting places are usually near sources of food and 5 to 15 feet off the ground.
Wide variety of food, including human food, animal food and carcasses, garbage and excrement.
Reproduction
House fly eggs are laid in almost any warm, moist material that will supply suitable food for the larvae. The female may lay a total of five to six batches of 75 to 100 eggs. In warm weather, eggs hatch in 12 to 24 hours.
Signs of a House Fly Infestation
The adult flies are the most common sign of activity. Larvae also may be seen as they crawl out the breeding material to pupate. Lastly, the pupae themselves may sometimes be observed nearby the breeding material.
More Information
House Fly Facts
The average life span for a house fly in the wild is less than one month. Houseflies pass through the egg, larval and pupal stages in approximately 10 days, after which adult flies emerge. House flies cease growth after emerging from their pupae.
House flies are covered with small hairs that serve as taste organs. Their compound eyes are extremely complex: thousands of individual lenses allow them a wide field of vision.
House flies are major carriers of disease. They are known to transfer over 100 pathogens resulting in ailments, including typhoid, tuberculosis, cholera and dysentery. House flies collect these pathogens on their legs and mouths when feeding on feces, trash and other decaying material.
House Fly Control
House flies can be a real nuisance when they are flying around. But they can also transmit diseases, so it is important to get rid of them. House fly control is not always as easy as it sounds. There is often more involved than a fly swatter. House fly control involves several steps.
Life Cycle of House Flies
The life cycle of a house fly begins in the egg stage. A female house fly is capable of laying up to 150 eggs in a batch. Over a period of a few days, she will produce five or six batches of eggs. Female house flies favor damp, dark surfaces such as compost, manure and other decomposing organic material for egg laying. House fly eggs resemble individual grains of rice.
Within a day, house fly eggs hatch into larvae, also known as maggots. Maggots are legless, white insects that feed from the egg-laying site for three to five days. During this time, maggots molt several times. They then choose a dark place to pupate.
Fly pupae are similar in function to butterfly cocoons: their hard, brown shells protect the inactive, developing flies. Over the course of three to six days, the pupae develop legs and wings, ultimately emerging as full-grown house flies. Within two to three days, female house flies are capable of reproduction.
Life expectancy of House Flies
Houseflies pass through four distinct stages: egg, larva, pupa and adult. The life expectancy of a housefly is generally 15 to 30 days and depends upon temperature and living conditions. Flies dwelling in warm homes and laboratories develop faster and live longer than their counterparts in the wild.
The housefly's brief life cycle allows them to multiply quickly if left uncontrolled. Houseflies are known to carry over 100 diseases, including tuberculosis and cholera. They transmit diseases both by feeding and by carrying pathogens on their feet and mouths. Contact your local pest control expert to discuss pest control solutions specifically tailored for your home.
House Fly Larvae
The house fly can be an aggravating pest found within human homes. In fact, the house fly has a strong relationship with man and will travel with human populations to even the coldest of regions. House fly populations can be harmful to human health: they carry multiple pathogens and have been linked to the spread of a number of diseases.
House fly eggs look like small grains of rice. Eggs hatch within 24 hours, and house fly larvae emerge. House fly larvae, or maggots, appear similar to pale worms. Their sole purpose is to eat and store energy for their upcoming pupation. Larvae feed for approximately five days, after which they find dry, dark locations for pupal development.
House fly larvae can be commonly found on rotting plant or animal material. If an animal dies, maggots will most likely feed on the corpse. These larvae also fall prey to many other species, including reptiles, birds and other insects. Certain wasps are known to lay their eggs inside maggots. When these eggs hatch, young wasps devour the maggot from the inside out.
When entering the pupal stage, white larvae develop hard, dark outer shells. Within a few hours of emerging from the pupa case, females are capable of breeding. She is capable of depositing almost a thousand eggs in her lifetime.
Blow flies are often metallic in appearance, with feathery hairs on the terminal antennal segments of the males. Adult blow flies have sponge-like mouth parts, while maggots have hook-like mouth parts.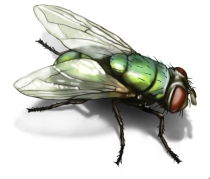 Behavior, Diet & Habits
Blow flies belong to the Family Calliphoridae of flies under the Order Diptera. To date, there are approximately 80 species of blow flies in North America.
Blow flies are attracted to decaying meat and are typically the first organisms to come into contact with dead animals. The meat of dead animals is essential for larval survival and growth. They are also attracted to plants that give off the smell of rotting meat and as such, can be a pollinator for those plants.
Reproduction
Female blow flies typically lay their eggs on decaying meat, where maggots hatch within a few hours to a few days depending on species. These maggots undergo three stages within several days, after which they leave their food source and pupate in soil. Within a few  days, the pupation will be complete, at which point they emerge as adults.
Signs of a Blow Fly Infestation
The most common signs of blow flies are either the adults themselves or their larvae.  The adults may be seen resting on surfaces or buzzing around potential food or odor sources. The larvae may be observed when they crawl out of the breeding material to pupate.
Bottle Fly
Bottle flies, also called blow flies, are common, large flies known for their metallic blue or green color.

Behavior, Diet & Habits
These flies create a buzzing sound while flying and are scavengers that feed on decaying meat or organic substances. They are transmitters of diseases and are considered to be pests.
Bottles flies are typically found outdoors. If a large number of bottle flies is found inside, an indoor breeding site may have been established. To eliminate bottle flies, it is important to implement stringent sanitation measures, which include cleaning garbage containers and making sure that the lids are seated tightly.
Reproduction
A female bottle fly can lay in excess of 2,000 eggs in a lifetime. The eggs are pale yellow or gray in color. Resulting larvae measure 9 to 22 mm in length and may hatch within two to three days, depending on temperature. Within two to 10 days, larvae seek pupation sites, from which they eventually emerge as adult flies. Bottle flies breed in damp, organic matter such as dead animals.
Bottle flies are also good pollinators. They often pollinate flowers with strong odors, such as pawpaws and goldenrod. When food sources are diminished, bottle flies feed upon the nectar of these flowers in order to produce healthy eggs.
Signs of a Bottle Fly Infestation
The most common signs of bottle flies are either the adults themselves or their larvae.  The adults may be seen resting on surfaces or buzzing around potential food or odor sources. The larvae may be observed when they crawl out of the breeding material to pupate.
Fruit Flies
Adults are 3 to 4 mm long, may have red eyes, though some are dark eyed, and a tan thorax. The abdomen is black on top, gray underneath. Fruit flies can appear to be brown or tan in color.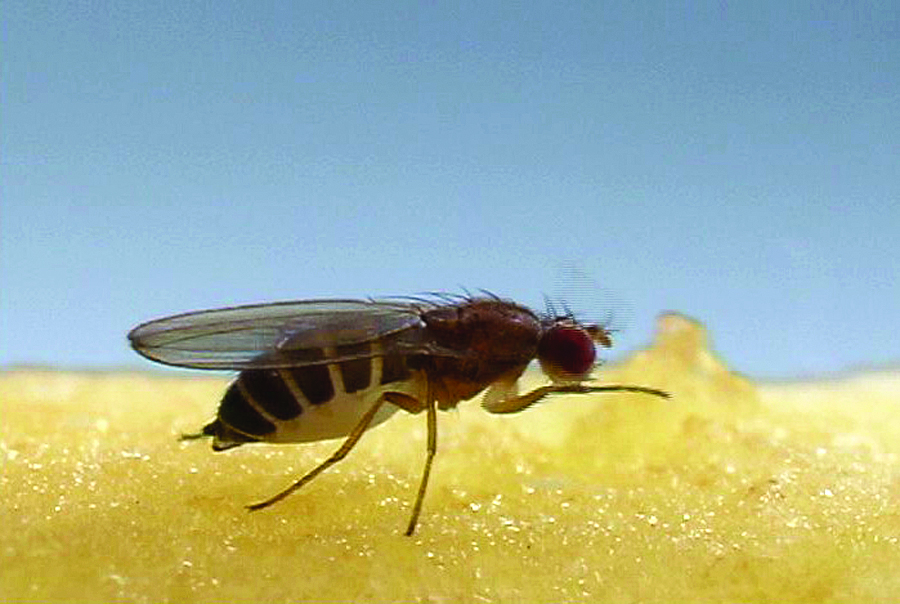 Behavior, Diet & Habits
Populations tend to build during the summer, becoming very abundant at harvest time. Indoors, fruit flies are frequently active at all times of the year.
Fruit flies eat ripened fruit and vegetables and fermenting products.
Reproduction
Larvae of fruit flies develop in moist areas where organic material and standing water are present. The entire life Cycle lasts 25 days or more depending on the environmental conditions and the availability of food.
Signs of a Fruit Fly Infestation
The two most visible signs of fruit fly activity would be the adult flies and the pupae.  Adult flies often are seen flying around in kitchens or trash cans near the decaying fruit or vegetables. They also are attracted to liquor and liquor/beer bottles. The mature larvae of fruit flies crawl out of the breeding material to pupate in a dry nearby spot. They sometimes are mistaken for cockroach or rodent droppings but can easily be differentiated by a pair of horns on one end of the pupae.
More Information
Fruit Fly Facts
There are over several  known fruit fly species across the globe. Like other fly species, fruit flies experience a four-stage life cycle: beginning as eggs they undergo larval and pupal stages before emerging as adults. The early life stages span approximately a few days and fruit flies can complete their development in as little as week in ideal temperature conditions. Adult fruit flies can live up to 30 days.
The common fruit fly (Drosophila melanogaster) is known for its ability to reproduce rapidly. The common fruit fly is a useful specimen in scientific research. The rapid life cycle allows researchers to study the effects of an experiment over a number of generations. Mutations are also common and easily followed in this fly species. Fruit flies have only four pairs of chromosomes: three autosomal pairs and one pair that determines sex. The entire compact genome of the common fruit fly was sequenced in 1998.


Fruit Fly Close-up
Fruit Fly Control
It is extremely difficult to rid a home of the common fruit fly. Fruit flies are attracted to sugary, organic materials. As their name suggests, they are commonly found infesting fruit. However, fruit flies are also capable of breeding in decaying meat, trash bins and large spills of soda or alcohol. Any fruit brought home following that should be stored in the refrigerator if appropriate. Regularly wipe counters, clean spills and empty your trash cans to help prevent fruit fly infestations.
The first step in addressing a Fruit Fly Infestation is the destruction of their feeding and breeding grounds. Fruit flies often lay their eggs in rotten fruit and other soft, sweet, organic materials. If you identify a fruit fly infestation in your kitchen, dispose of all over-ripe or damaged fruit. Any subsequently purchased fruit or vegetables should be kept in the refrigerator until the fruit fly infestation dissipates.
If there is no fruit or vegetable matter in your kitchen, check your garbage and recycling bins. Fruit flies may also use unclean drains as breeding grounds. Outdoor drains are likely sources of yard-based fruit flies, as are overripe fruits beneath the trees from which they have fallen.
After isolating the fly breeding ground, control methods may be utilized. Although eradication may require several treatments, the lack of food available to fly populations will eventually cause them to die out.
Other Ways to Get Rid of Fruit Flies in Home
Bacterial digesters are available to pour down infested drains. Bleach can sometimes be effective; although it is rarely stays in the drain long enough to address the accumulated slime that attracts fruit flies. While not effective at eliminating an infestation, fruit fly traps may provide temporary relief by trapping some of the adults.
Fruit Flies Life Cycle
The average natural life span of fruit fly adults in optimal temperatures is 40 to 50 days. Female fruit flies are capable of mating and laying several batches of eggs in that time, allowing the fruit fly population in a home to multiply quickly. The life span of the fruit fly is heavily influenced by temperature.
The fruit fly's life cycle begins when the female lays her eggs on a piece of fermenting fruit or other decaying, sweet organic material. She can lay up to 500 eggs, making it difficult to control the population. After eggs hatch into small, white larvae, they eat from their nesting site for four days, absorbing the nutrients and energy needed to transfor into adults.
Larvae then locate dark, dry places for pupation. During this stage, the legless larvae grow six legs and a pair of wings before emerging as adults. Full pupation takes approximately four days. During this time, the faint outline of the transforming fly is visible through the pupa case. Following pupation, adult fruit flies are ready to mate in about two days.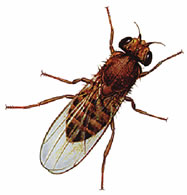 Fruit Fly Life Cycle                                                         Adult fruit fly
Fruit Fly Feeding Habits
Fruit flies are attracted to yeast resulting from the initial decomposition of plant materials. Sap flows, overripe produce and mushrooms are also foods of choice for fruit flies. The common fruit fly attacks and punctures the skin of overripe fruit and vegetables in order to lay eggs and feed.
Adult flies are most active during warm, bright days and feed upon the surfaces of fruits, leaves, plant secretions and honeydew produced by aphids. During the preoviposition feeding stage, adult fruit flies spend time feeding on fruits, vegetables and other decaying materials.
Following this phase, the female fruit fly places her eggs beneath the skins of fruits. Fruit fly larvae feed on the surface of decaying masses within which they are laid. Larvae are often present in the blemished and overripened areas of fresh fruits and vegetables.
Fruit Fly Food
Fruit flies eyes are typically red, some have darker eyes. The common fruit fly (Drosophila melanogaster) is tan or light brown in color and measures 3 to 4 mm in length.
Fruit Flies as their name, commonly feed on sugary substances and some fruit. They are attracted to the fermenting sugars present in spilled beverages.
Fruit flies enter homes through open windows and doors in spring and summer. Fruit fly larvae are so small, they are difficult to locate and are commonly brought into the home unwittingly with fruit. Fruit flies also may feed on organic material present in unclean drains.
Life cycle
Adult House Flies usually live only 15 to 25 days but may live longer in cooler climates. They lay many hundreds of eggs and their larvae (maggots) develop in organic material.